Even though I host most of my videos on YouTube, there are several ways to upload and manage videos in WordPress. Video hosting becomes easier with a self-hosted WordPress blog (where you sign up with a web hosting company instead of hosting it for free).
VideoPress
VideoPress is a video hosting service specifically for playing videos on websites running on WordPress. It is lightweight and allows you to add and play responsive videos from mobile and tablet devices. It was developed to focus on the content. So the player is ad-free, unbranded, and starts and ends on your video, keeping traffic on your site.
The player has a share option so users can embed videos on their websites. You can also offer them to download the video in different formats such as original video file, H.264 (MP4), Theora (OGG).
Other Video Sharing Features
Play the video at the given number of seconds from the start of the video
Loop the video to the beginning and start playing automatically every time it finishes
Automatically play the video when the page loads
Turn on/off the HD option for the video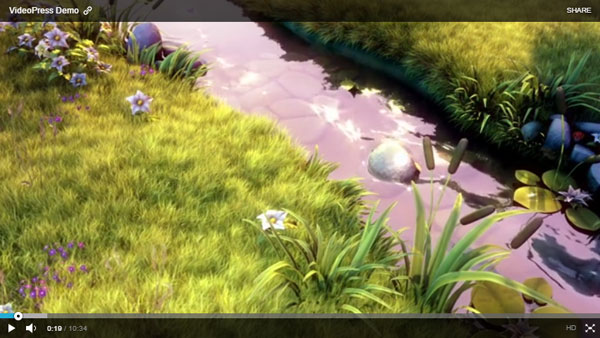 VideoPress comes with advanced stats so you can analyze where your videos are being shared and how many times they are being played/viewed.
Media Library
It's also possible to host videos on your server. Simply upload a video to your WordPress Media Library and insert into a post/page directly. For details please check my post on embedding videos in WordPress.
Disclosure: This page may contain affiliate links. If you follow one of those affiliate links and purchase something it will provide me with a little bit of a commission. This costs you nothing extra but helps maintain my site, free plugins, and themes. So I thank you for your support.