Gmail SMTP is an advanced SMTP mailing plugin for WordPress for sending an email via Gmail SMTP server. Unlike most SMTP plugins It uses the OAuth 2.0 protocol to authorize access to the Gmail API instead of password authentication.
Table of Contents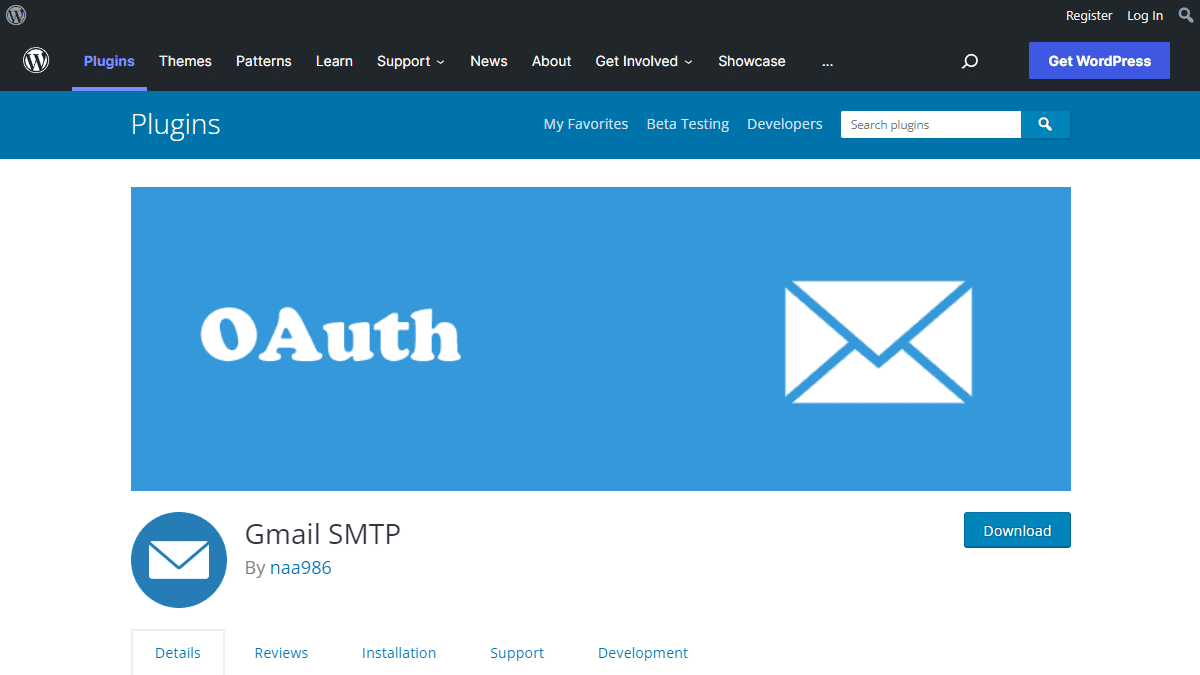 Gmail SMTP Info
Gmail SMTP Benefits
1. Gmail SMTP plugin does not store your password. It uses the OAuth 2.0 mechanism for SMTP authentication. It means a more secure login system for users.
2. Gmail SMTP plugin uses PHPMailer – a very popular PHP library used in the core WordPress for sending an email. This is to make sure that users can still get full benefits of the default email functionality.
3. Gmail SMTP plugin takes a big headache away from you because you no longer need to Allow Less Secure Apps on your Gmail account. This is an option that users had to enable in order to fix SMTP connection issue. This issue went viral from December 2014, when Google started imposing OAuth 2.0 authentication to access their apps. This option affects SMTP mailing because applications that perform password authentication to IMAP, POP, or SMTP are considered Less Secure Apps.
As far as I know, this issue still affects almost all the SMTP plugins out there.
How OAuth 2.0 Authorization Works
1. You register a web application in the Google Developers Console.
2. When this application is launched it requests that you give it access to data in your Google account.
3. If you consent, the application receives credentials to access the API.
Installation
You can install the Gmail SMTP plugin in one of the following ways:
Option 1 (Quick & Easy install)
Go to Plugins->Add New from your WordPress admin dashboard
Search for Gmail SMTP
Click Install once you have found it
Option 2 (Manual install)
Download the zip version of the plugin
Go to Plugins->Add New
Click Upload Plugin
Select the zip file on your computer
Install it
Gmail SMTP Configuration
In order to get started with the plugin go to Settings->Gmail SMTP from your admin dashboard.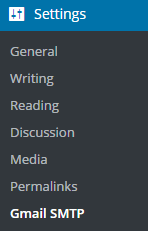 Gmail SMTP Project Creation
1. Go to console.cloud.google.com/apis/dashboard.
2. Login to your Google account which will be used to send an email.
3. Create a new project where your application will be registered.
It doesn't have to be "Gmail SMTP Project 1". You can name it whatever you like. I chose a meaningful name because I have multiple projects in it.
Credentials/App Creation
1. Once the project is created go to Credentials > CREATE CREDENTIALS and select OAuth client ID.
2. In order to create an OAuth client ID, you need to configure the OAuth consent screen first. So click CONFIGURE CONSENT SCREEN.

3. Choose how you want to configure and register your app. Since I'm not using G Suite I had to choose External.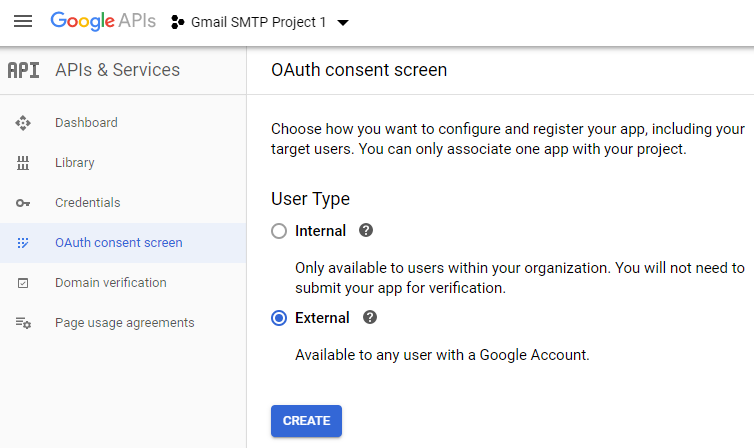 4. Enter a name (e.g. Gmail SMTP) for the OAuth consent screen.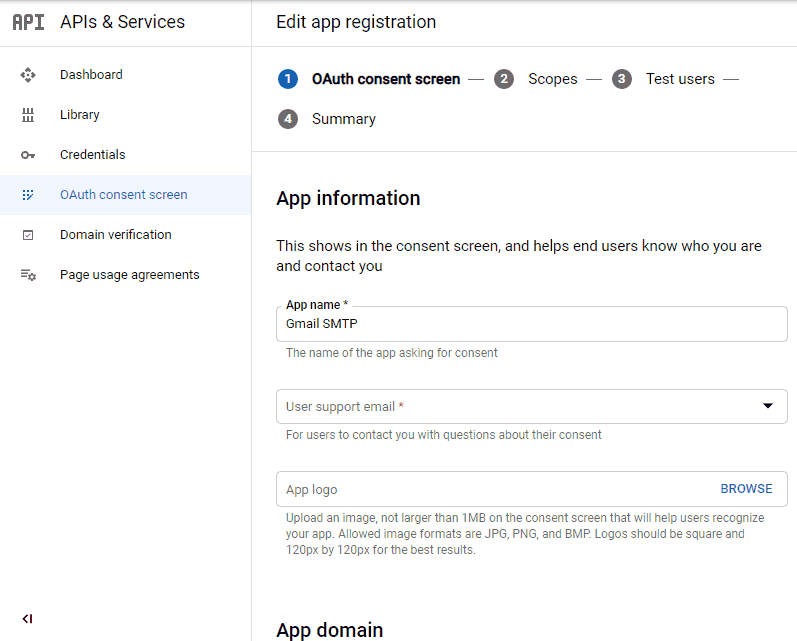 5. You can configure optional fields such as Authorized domains, Application home page, Application privacy policy link and Application terms of service link (I was able to skip all and click SAVE AND CONTINUE). You do however need to enter an email address under the Developer contact information section.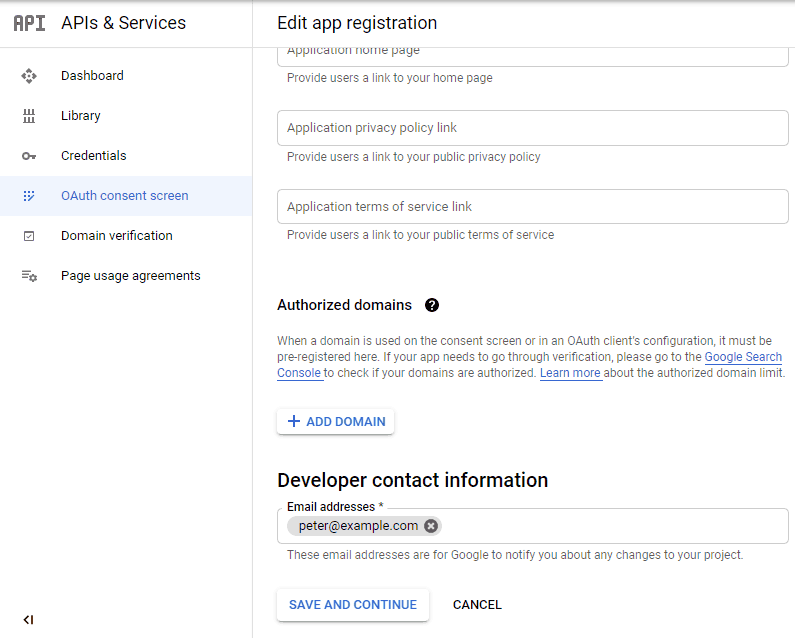 6. Skip the Scopes screen.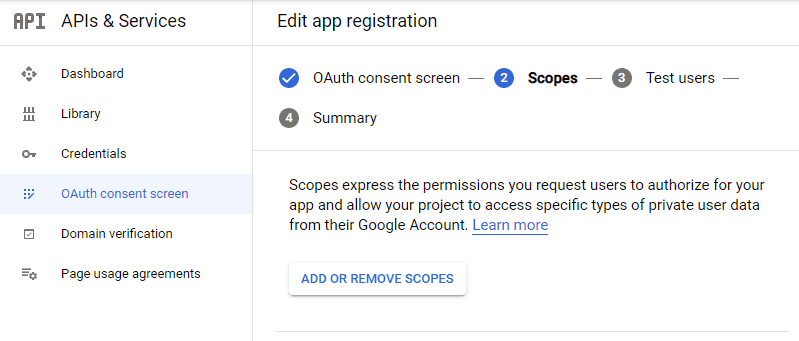 7. Add a test user if you plan to use this app in test mode (This is not required if you want to publish it).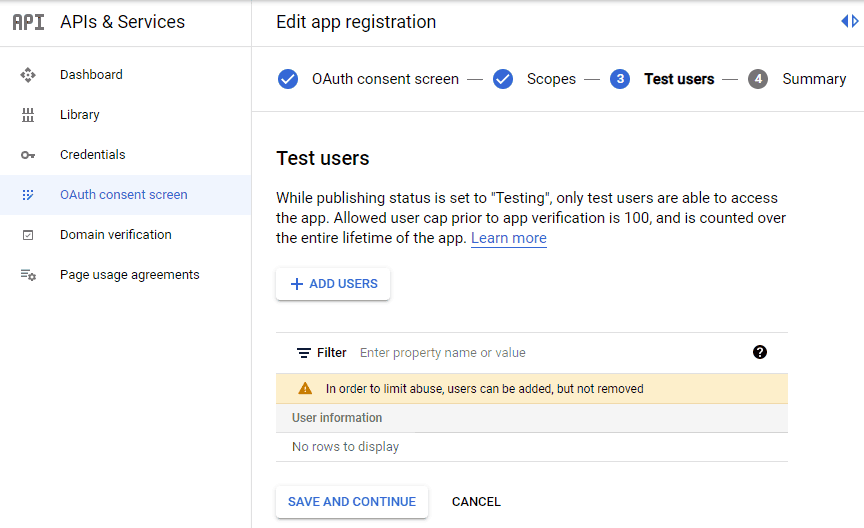 8. Keep your app in test mode or publish it. If the Publishing status is set to In production, a warning message (This app isn't verified) may appear on the consent screen that you can easily skip.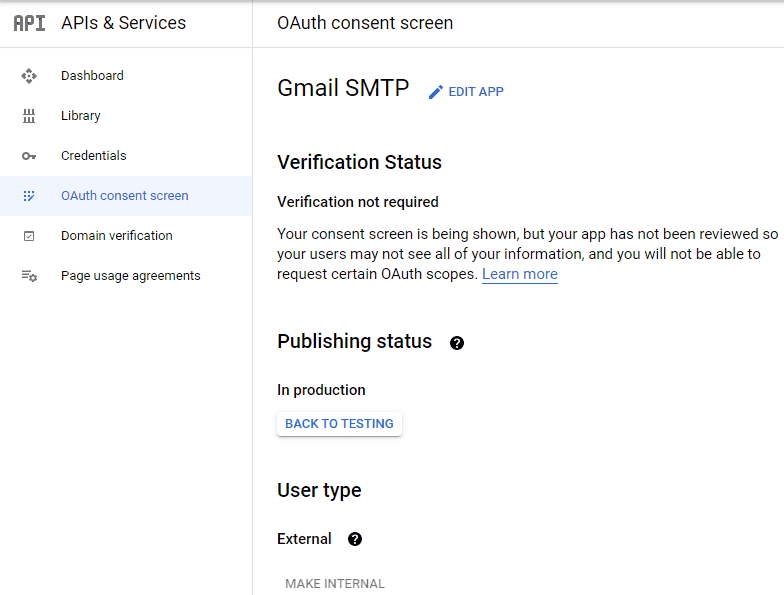 Now that the OAuth consent screen has been configured you can create an OAuth Client ID.
9. Go to the Credentials tab and select OAuth client ID under CREATE CREDENTIALS.
10. Set the application type to Web application and enter a name for it (e.g. Gmail SMTP App). Copy the Authorized Redirect URL from the settings and paste it into the field here.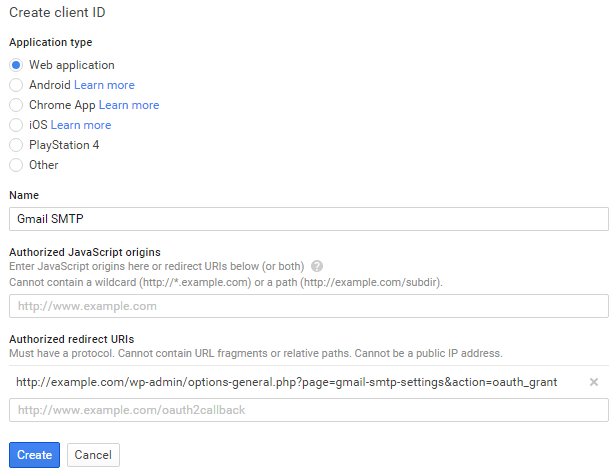 11. Click Create. This will generate a Client ID and Client Secret for you. Copy and paste them into the settings area of the plugin.
Gmail SMTP Settings Configuration
1. Configure the rest of the settings. It includes,
OAuth Email Address: The email address that you will use for SMTP authentication. This should be the same email used in the Google Developers Console.
From Email Address: The email address which will be used as the From Address when sending an email.
From Name: The name which will be used as the From Name when sending an email.
Type of Encryption: The encryption which will be used when sending an email (either TLS/SSL). By default, it should be set to TLS since SSL has been deprecated since 1998.
SMTP Port: The port which will be used when sending an email. If you choose TLS it should be set to 587. For SSL use port 465 instead.
2. Click Save Changes.
Now that you have configured the settings a Grant Permission button will appear.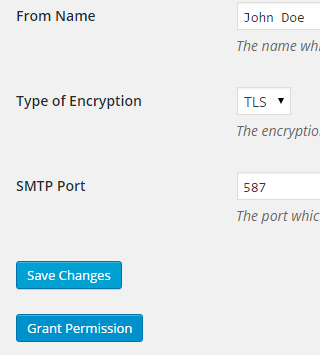 3. Clicking on it will take you to a consent screen where you will be able to grant this app access to the Gmail API.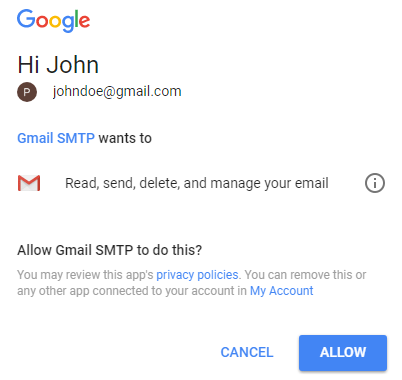 4. When you click Allow you will get redirected back to the plugin settings. You should see a message like Access Granted Successfully. The SMTP Status should also get set from Not Connected to Connected.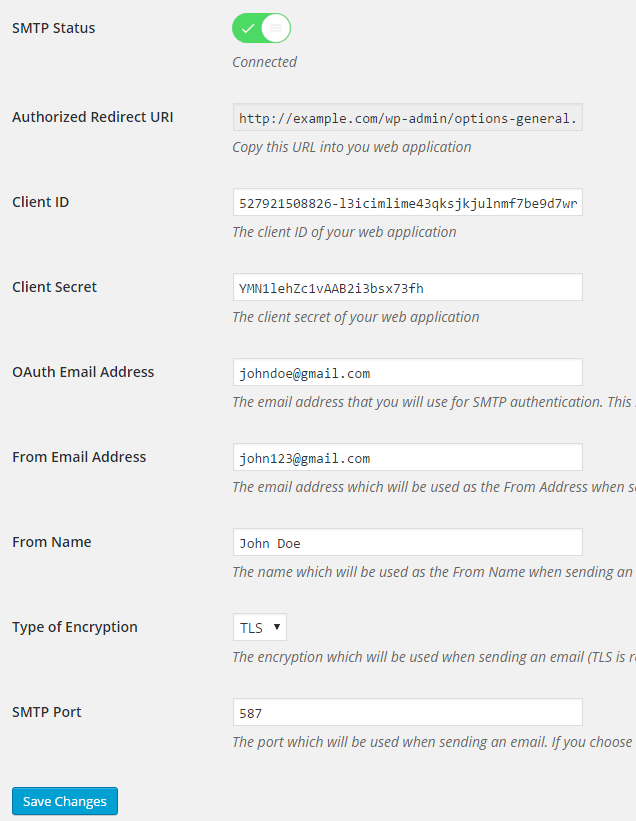 That's it. Gmail SMTP plugin will now be able to take control of all outgoing email from your website.
Test Email
In order to test the email functionality, you can send a test email from the Test Email tab.
Debug option is enabled by default for the test email functionality – which means you would be able to see if the plugin was able to send the email without any error.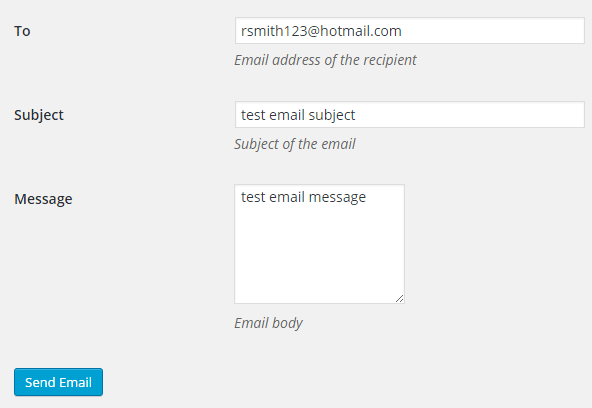 Troubleshooting
By default, your SMTP port should be configured on 587 (with TLS encryption). If you can't get it to work then you can try changing it to 465 (with SSL encryption).
If you still can't get either to work try port 25 with TLS first and then SSL. Please note that most servers don't support encryption on port 25, which is why port 587 and 465 are the preferred options.
Fresh Authorization / Removing Access From the Application
For some reason, if you ever want to stop using this plugin or do a fresh authorization this option might come in handy.
Revoke Access menu allows you to remove access from a previously authorized application.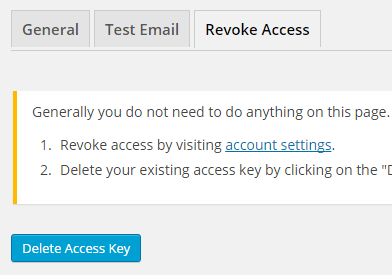 First, you need to click on the account settings link. This will take you to a page where you can remove access from the Gmail SMTP application.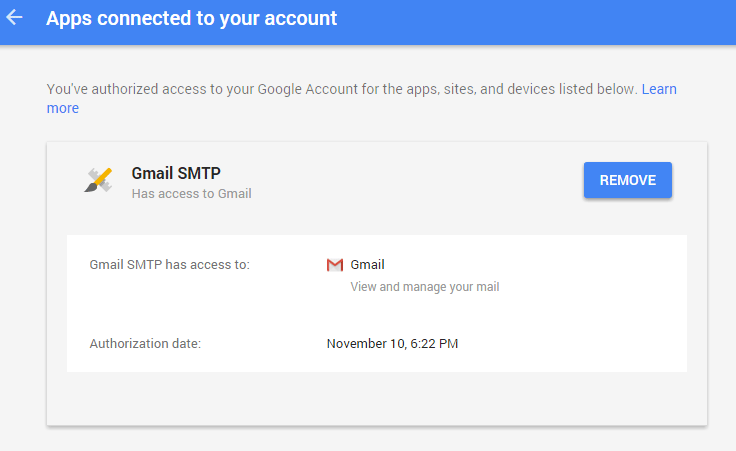 Once you have removed access from it, go back to the Remove Access tab in the plugin settings and delete the Access key.
Access key is a token that the plugin received when you first granted your app access to the Gmail API. This token is necessary to communicate with the Gmail API and send an email. In order to avoid any confusion, the plugin does not show it on the settings page.
Once you delete this token the plugin can no longer connect to the Gmail SMTP server or send an email. This means you will need to reauthorize (using the web application link in the settings) before you can start using the plugin again. However, you won't need to set up everything from scratch as long as the project still exists in your Google Developers Console.
Gmail SMTP Add-ons
Gmail SMTP plugin comes with add-ons that you can use to enhance its functionality on your website.
Reply-To
Reply-To add-on lets you set a reply-to address for all outgoing email messages.
Cc
Cc add-on lets you set a cc recipient for all outgoing email messages.
Priority Support
If you are having an issue with the plugin, our support team can help investigate it by taking a closer look at your site.