WP Elegant Testimonial is an easy-to-use WordPress Testimonial Plugin to insert testimonials to a post or page. There is no limit to the number of testimonials you can use on a specific page. You can insert as many testimonials as you want using shortcodes.
WP Elegant Testimonial Info
Features
Flexibility of inserting testimonials to a WordPress post or page
Testimonials are customizable
User-friendly shortcodes for creating WordPress testimonials
Display WordPress testimonials using tooltip
Give professional look to your WordPress blog
Requirements
A self-hosted WordPress site running on a WordPress Optimized Environment.
Plugin Installation
Login to your WordPress admin dashboard
Go to Plugins->Add New
Enter Elegant Testimonial in the search box
Once you find the plugin hit the install button
Option 2
Download the zip version of the plugin
Go to Plugins->Add New and switch to the Upload tab
Select the zip file on your computer
Upload and install it
Option 3
Download the zip file and extract it
Connect to your website via FTP (you can use a software like Filezilla to transfer files to your server) and browse to the "/wp-content/plugins" folder
Select the folder containing the plugin files on your computer and upload it
Once all the files have been uploaded to your web server you can activate the plugin from the Pluginsmenu (WordPress admin dashboard)
Setup
You can download the .zip file and upload it via WordPress Plugin Uploader. Once you have successfully uploaded it hit Activate Now.
Step-1: Once you have installed the WordPress testimonial plugin create a new post/page on your WP Dashboard.
Step-2: Now embed the following shortcode on the new post/page you just created:
[wp_elegant_testimonial name="Customer Name" company="Customer's company" text="Customer's testimonial" image="Customer's image"]
Step-3: Replace the value of each shortcode parameter with your customer's information. For example:
name="customer's name goes here"
company="customer's company goes here"
text="customer's testimonial goes here"
image="customer's image goes here"
And you are done! You can now Publish the post/page and view the testimonial you just created.
Demo Screenshots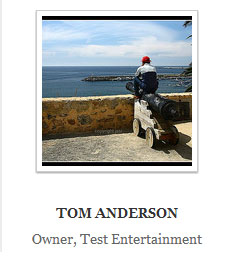 Text is displayed when a user hovers over the image.