WP Elegant Testimonial is an easy to use WordPress Testimonial Plugin to insert testimonials to a post or page. There is no limit to the number of testimonials you can use on a specific page. You can insert as many testimonials as you want using shortcodes.
Testimonial Plugin Summary
Plugin Name:
WP Elegant Testimonial
Compatibility:
WordPress 4.5
Description:
An easy to use Testimonial Plugin for WordPress.
Rating:
5.0
out of
1
vote
WordPress Testimonial Plugin Features
Flexibility of inserting testimonials to a WordPress post or page
Testimonials are customizable
User-friendly shortcodes for creating WordPress testimonials
Display WordPress testimonials using tooltip
Give professional look to your WordPress blog
WordPress Testimonial Plugin Setup
You can download the .zip file and upload it via WordPress Plugin Uploader. Once you have successfully uploaded it hit Activate Now.
Step-1: Once you have installed the WordPress testimonial plugin create a new post/page on your WP Dashboard.
Step-2: Now embed the following shortcode on the new post/page you just created:
[wp_elegant_testimonial name="Customer Name" company="Customer's company" text="Customer's testimonial" image="Customer's image"]
Step-3: Replace the value of each shortcode parameter with your customer's information. For example:
name="customer's name goes here"
company="customer's company goes here"
text="customer's testimonial goes here"
image="customer's image goes here"
And you are done! You can now Publish the post/page and view the testimonial you just created.
Demo Screenshots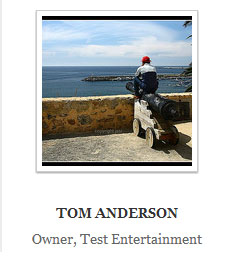 Text is displayed when a user hovers over the image.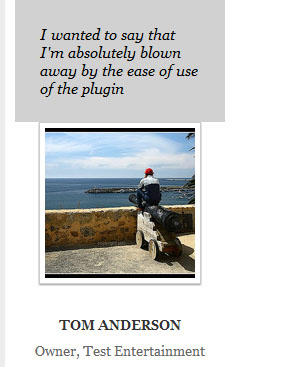 Download WP Elegant Testimonial
You can download the WordPress Testimonial plugin from here
Like the WP Elegant Testimonial Plugin?
You can thank me by giving it a rating
here
. It really helps with the development and support.
Users who like this plugin also like WP eStore plugin to sell products in WordPress.